How much does gender influence the art world?
An exhibition showcasing six female abstract artists poses questions about the real
impact of gender on output and perception in the art world. Professor Griselda Pollock
attends 'The Nature of Women' at The Mayor Gallery for Telegraph Wonder Women.

---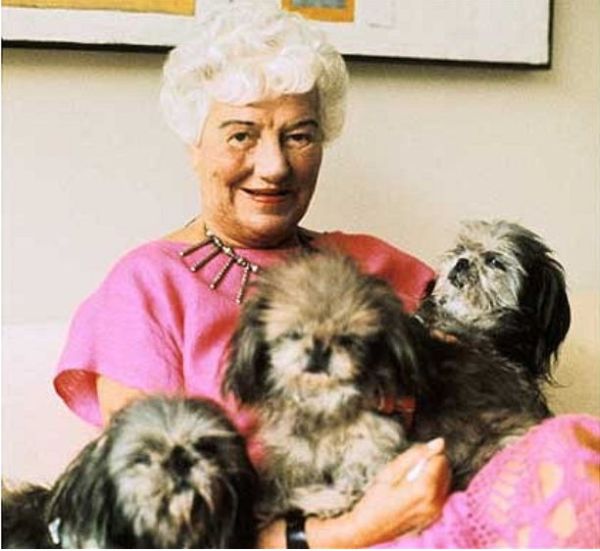 Peggy Guggenheim, pictured with her beloved dogs, was a major collector of abstract art created by women. Photo: GETTY
---
By Professor Griselda Pollock
12:52PM BST 17 Jul 2013
......................................................................................................................................................

The conventional story of modern art, told by museums and critics, was that modern art began with a break away from literature and history that led to increasing preoccupation with the properties of each art's medium. Far from representing the end of art as some conservative critics imagined the chaotic fracturing of art into tiny coteries, the inevitable journey towards abstraction would be art's realization of its true essence. That essence was not to represent the world, but to be a world in itself and for itself.

Visiting major exhibitions such as the Venice Biennale, currently on, or last year's Documenta 13, we would be hard pressed to accept that story. Hardly any painting is to be seen nowadays, and that which there is, is not often abstract. The moving image, new technologies, video essays, installations, performances - all constitute a new post-conceptual condition of art today.
......................................................................................................................................................

Does being a woman change artistic output?

So how do we make sense of a current exhibition which unites female artists and abstraction? The exhibition presents the work of six artists, all women, under a punning title The Nature of Women at London's Mayor Gallery. This risks suggesting that there is such a nature shared amongst all women, while actually wishing to suggest that the abstract works on show have a deep relation to nature, be that urban or rural. Was nature always the deeper core of abstraction? Does the linking of women with nature segregate them once again from the big story of pure abstraction or does it bring us to a realisation that whether it is geometry or mathematics, spirituality or philosophy that appears to engender abstraction, we are creatures with natures who live in relation to time, space, being and what sustains our life and our imaginations: what we call nature because we risk being alienated from its foundations for life on this planet.

The exhibition raises two questions (amongst many) that I want to address briefly here. Is there anything specific to say about women and abstraction: does gender matter when art sheds all references except to its own processes and potentialities as colour, line, space, surface, rhythm and so forth or when it seeks to commune with abstract forces and effects we call nature?

And what do these specific and highly diverse artists in the show bring to the debate about the continuing relevance of abstraction in painting now?

In a BBC interview on January 25 1988 with museum curator Julian Spalding, Bridget Riley, one of the many outstanding practitioners of abstract painting, made the astonishing but fascinating claim that abstraction in painting was still in its infancy. Riley suggested that abstraction had been abandoned as the core of contemporary art at a point in its own evolution that is something akin to where the painters of Sienna were in the 13th century in relation to the flowering in Italian painting two centuries later, with Leonardo and Raphael.

This statement upended my art historical sense that the great moment of abstraction had passed, reaching a pinnacle with the painters of the New York School like Jackson Pollock and Mark Rothko, Barnett Newman and Clifford Still. It reminded us to be patient and less driven by fashion and fashionable curation. It suggested that we should be watching for those artists faithful to a much longer gestation.


---
'Female artists need feminism like a hole in the head'

Yet Riley is also the artist who commented in the early 1970s, that women artists needed feminism - attention to gender issues - like they needed a hole in the head. Understandably she belongs to a generation of artists for whom modern art offered the wonderful opportunity to 'be an artist', simply and firmly engaged with artistic questions. Yet when the great American abstract painter Helen Frankenthaler died in 2011, the obituary writers repeated over and over again her disdain for feminists even while it was feminist writers who wrote some of the most interesting and appreciative analyses of her work, taking her much more seriously than the art historians who simply allowed her work only to be a 'bridge between Pollock and what came after'.

That older generation of women painters still had in the background the legacies of Victorian ideas that indeed women could be artists, but only in a specific, feminine, hence secondary way. For them, the new feminist inquiry into whether gender made a difference was to be firmly silenced; it made no sense to them.

The embrace of abstract modernism by so many women of the 20th century was an escape from the claustrophobia of too much gender talk in art. They wanted the freedom to create, unshackled by the kinds of censorship of what was proper against which, as a writer, Virginia Woolf so brilliantly raged. She gives us a moving picture of modernist female creativity: "Imagine woman, by a river, fishing. Her line [of imagination] flows freely with the moving current; her unconscious is given full rein and the woman loses herself in its free exploration. Suddenly and brutally this flow is interrupted, for the woman's flowing mind crashes against the hard rock of censorship: a woman cannot think that, a woman should not say that."

Unlike even stream-of-consciousness-literature, abstraction in painting offered a space of freedom in which organic or geometric, theosophical or mathematical issues could be addressed in a universal language that did not risk offending social conventions. In every art movement engaging with abstraction, women were at the forefront, side by side with the men, whom alone our cultural institutions have canonised, allowing so many women to be forgotten or sidelined. From the Russian constructivists to the founders of the American Abstract Artists, through to the first and second generations of the New York School, and across Europe from Sweden to Prague and Warsaw, you will find, if you look, the names and oeuvres of remarkable women artists in abstraction.


---
We salute you Peggy Guggenheim

When the dealer Peggy Guggenheim moved to New York in 1940, she was horrified by the bad deal the women artists were getting in terms of visibility: her interests were surrealism and abstraction. She asked the director of the Museum of Modern Art, a particular offender in gender exclusiveness, about women abstract painters. He reeled off a whole list of names of women artists, of whom some were much better than their male colleagues. None the less, he did not collect their work. Peggy Guggenheim decided to show them. Many women agreed. Some did not. There was a risk. Being shown only with women might endorse the gender divide. Decide not to show and you might remain marginal and invisible. Lee Krasner risked it; Georgia O'Keeffe refused.

The show currently on at the Mayor Gallery, London is built around James Mayor's long-standing engagement with the work of Agnes Martin (1912-2004), born in the prairies of Western Canada. She studied in the US in the 1940s becoming a citizen in 1950. She worked and exhibited in the New York art community in the later 1950s and early 1960s before moving to New Mexico. Having destroyed much of her earlier work that plotted her journey to a kind of transcendental abstraction, Martin is now known for the intense minimalism of paintings, watercolours and drawings in which fragile graphite lines waveringly mark out grids washed by pale, fluent colour.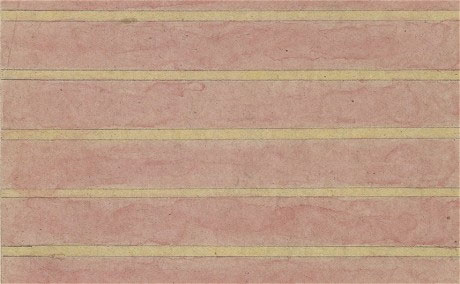 Agnes Martin's work
These simple components sustained a life-time of creation of works whose radically reduced elements demand of the viewer stillness, attentiveness and a yielding of one's desire to see and know in favour of allowing the often tiny squares of canvas, or in the show, tracing paper, to reveal how much is already there. We live in an elemental world of luminosity (colour) and order (be that horizons, skies and plains —horizontals—or mountains and trees). Inviting us to contemplation of what is already there but cluttered and veiled by too much information, Martin's works are classics of a non-gestural, non-expressionistic abstraction.

The Mayor Gallery spins a conversation around this quiet and modest core. In the first room Anne Appleby (b. 1954) is a West Coast American painter who lives much of her time in rural Montana. Her works are configurations of small square canvases upon which at first sight we think we see monochrome paintings in a restricted and refined palette of greens and greys.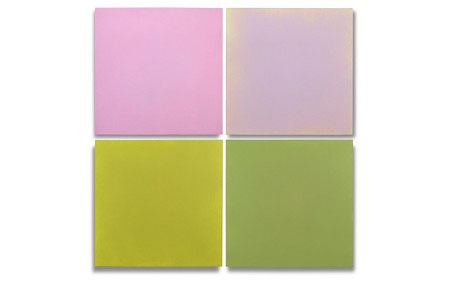 Anne Appleby's Faded Sweet Pea
Like Martin's work, we find that our eyes need to adjust in order to recognize the vibrations of colour that result not from fine washes like Martin's but subtle layerings of colour that shimmer and move, revealing unexpected hues emerging from within. Appleby is fully immersed in nature, in seasons and specific plant forms whose names she gives to her works such as Spring Iris, Plane Tree, Faded Sweet Pea.

On the other hand, Lisa Corinne-Davis occupies the room that lies between Martin and Appleby, a New York based artist who taught at Yale School of Fine Art and now teaches in New York. Her works seem busy, intense, animated and full in contrast to the other two artists around her. The musical rhythm of the painting is modernist, urban, upbeat and energetic. Yet she too builds her work on the grid structure that is Martin's signature.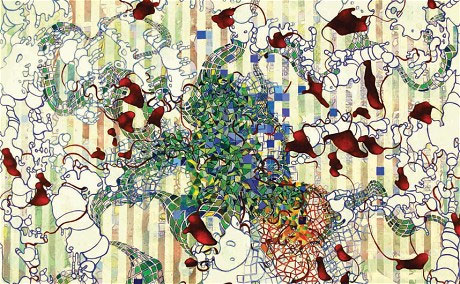 Bona fide Disorder by Lisa Corinne Davis
But instead of reduction, Corinne Davis creates a world of intersections and populations that range from areas of intense, abstract colour that flatten the field of the painting, to organic creatures emerging and morphing into fanciful generations of new kinds of beings. Clashes and encounters are held together by their shared grid-structure, while the latter is never allowed to deaden the dynamic life that the paintings celebrate.

At the far end of the gallery, another presiding figure is Aurèlie Nemours (1910-2005), a Parisian painter who began her career as an art historian and turned to art in 1941 entering the atelier of André Lhote while later working with the group around Fernand Léger (as did the Lebanese abstract artist Saloua Raouda Choucair, currently being exhibited at the Tate Modern).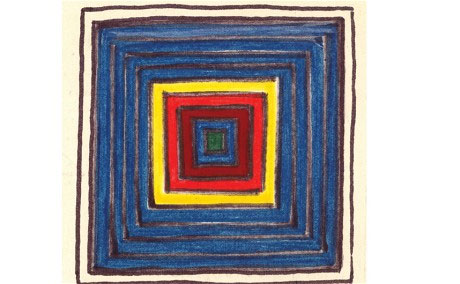 One of Aurèlie Nemours paintings - the grand dame of French abstraction
She dedicated herself to the exploration of the play between the horizontal and vertical without allowing this to become a foundational grid. The tensions in both geometry and the built environment ensure that her works relate to the investigation into the square as it is experienced in life, even as the work removes the structures from daily experience.

Surrounding the grand dame of French abstraction firstly is Sylvia Heider, born 1949, an Austrian sculptor who makes large-scale reliefs using metal. The Mayor Gallery has selected smaller works in wood and metal. Beautifully textured woods are crafted into finely fitting frames for a squared metal core upon which abstract geometric shapes and lines are raised. The wood and metal ensemble is placed with an open metal envelope. Physical in their contrast of materials, one natural and the other manufactured and heat processed, they are at once very beautiful works and quite terrifying in the power of such materials, however abstract to evoke other histories of metal and wood.


---
Untitled #71 2013-08-06 Metal and Wood 43,5 x 43,5 cm 17 1/8 x 17 1/8 inches Sylvia Heider
Finally, there is the work of Marischa Burckhardt, born in 1927 of Russian parents now living in Switzerland, who bridges the space of Agnes Martin's small meditative pieces and the European grouping in the second gallery. Burckhardt entered art only in the 1970s, rapidly developing a practice that has been widely exhibited. She completes the conversation around the square and links with Heider in her creation of abstract works through materials applied and collaged to her square grounds.


---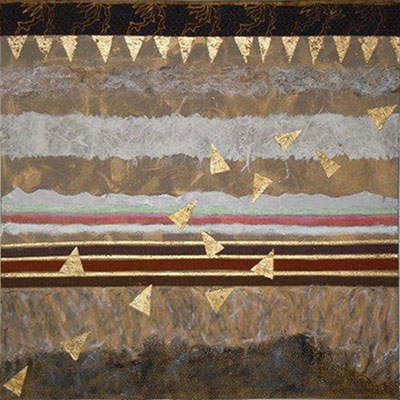 Golden Squares 10 6 May 2012 Textile Collage 33 x 33 cm 13 x 13 inches Marischa Burckhardt
Rather than the immaterialities/materialities of the American trio working with paint, Heider and Burckhardt play in the space between painting and sculpture. Burckhardt's work introduces its own tensions between hessian and cloth, woven grids and applied grids, daring to touch on the decorative power of gold and abstract patterning. Burckhardt has spent time in Australia studying with its indigenous peoples and learning other idioms for relating to the desert as the round of ancient and long-lived civilizations; hence perhaps her ability to play with minute variations of a limited palette of earth colours illuminated by gold.


---
Why do we need this all-female show?

What seemed at first sight a small show of six artists becomes a rich and complex conversation between and with remarkable artists who clearly affirm that the old art historical story of an all-male canon of abstract greats is rather old hat and that the current story that abstraction is a dead-end is equally nonsense. I have to confess that apart from Agnes Martin and Aurelie Nemours, I knew none of the artists in the show. James Mayor has made the gift to us of bringing these artists together in a show that allows each her unique individuality within the finely woven web of connections and interrelations that makes the exhibition as a whole hold together as a bigger statement about abstraction and nature.

In the catalogue of the show, we find a complete list of exhibitions at the Mayor Gallery since its opening in 1925. The gallery has been a major player in introducing and sustaining our knowledge of currents and movements in twentieth century art, but also in ensuring that the artists are the main players, and that all artists who deserve to be seen are given space, in contrast to the narrowed vision of selective museums.

Men and women side by side created the revolutions in 20th century art. That was the very mark of their modernism: egalitarian participation rather than Victorian separatism. The list of exhibitions shows that this gallery has consistently made visible the women and the men. It is fitting and historic that the gallery's current history in Cork Street should end on this beautiful and thoughtful show before its closure, ensuring that our sense of art and its current and historical dynamic is constantly enriched by thoughtful selection and beautiful installation.

Even if Bridget Riley did not believe that gender mattered, being gender inclusive does because it is the truth of what actually happened in art in the 20th century. We needed feminism to remind us that art is made by women as much as men and as importantly. But with such shows out there as The Nature of Women, our heads are full of interesting and brilliant art, which ensures female artists' input is fully recorded.

The Nature of Women is at The Mayor Gallery until July 26 2013.

Griselda Pollock is director of the Centre for Cultural Analysis, Theory & History and professor of Social & Critical Histories of Art at the University of Leeds's School of Fine Art, History of Art & Cultural Studies.

Source: www.telegraph.co.uk